Since our last market update, the Bitcoin price has continued higher, with the rate of growth exploding so far that the price of the cryptocurrency has gone vertical, briefly tapping $6,600 just some hours ago.
At that price, BTC was up 20% on the day, easily outperforming the American stock market indices of the S&P 500 and the Dow Jones, which have posted slight gains (of 1% to 2%) on the day.
Trend is getting Bullish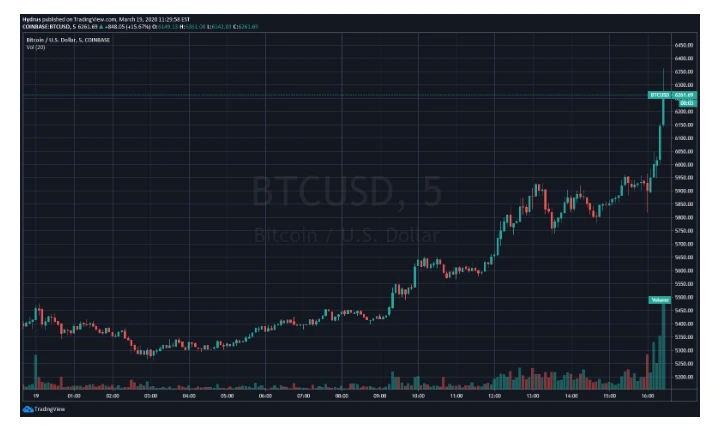 The trend is getting bullish, though. Analyst Galaxy noted that a trend indicator that nailed the $6,400 bottom in December, then predicted a retracement when BTC was trading at $10,000, has just printed a buy signal for the first time since December. This would suggest a reversal is underway.
Not to mention, there are many fundamental reasons to be bullish on Bitcoin. Hunter Horsley, CEO of Bitwise Asset Management, shared a few:
-Bitcoin has started to decouple from traditional markets, proving that it may act as a safe haven in the ongoing crisis.
-72% of Coinbase clients are buying BTC, per data from the company itself.
-The Bitcoin block reward halving is 50 days away.
-Billions of dollars may return "when levered longs return."
-Central banks have printed trillions worth of dollars to stimulate the economy, setting the stage for inflation that may benefit cryptocurrency.
HUGELY bullish dynamics for Bitcoin right now:
BTC flat during HISTORIC risk-off days in markets.
- 72% on Coinbase buying.
The Halvening is 50 days away.
Billions in buys coming when levered longs return.
And if 1% of >$2T+ of stimulus finds its way to Bitcoin…
— Hunter Horsley (@HHorsley) March 18, 2020
The big question is will Bitcoin break past $7000 before the week runs out...