Says generators consume 300 million litres of diesel monthly • Commissions N59.6bn transformer facility to upgrade supply in Abuja Chineme Okafor in Abuja Nigeria's electricity sector is losing N24 billion monthly to the diesel generator market, which consumers especially heavy electricity users like industries embrace …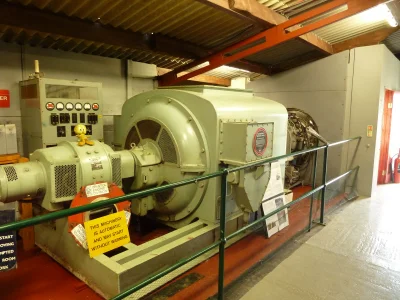 Nigeria's electricity sector is losing N24 billion monthly to the diesel generator market, which consumers especially heavy electricity users like industries embrace as an alternative to power their homes and operations, the federal government has disclosed.

Fashola stated this shortly after commissioning a 100 mega volt amp (MVA) transformer installed by a power firm — MBH Power Limited — for the Transmission Company of Nigeria (TCN) at its Katampe transmission substation. The high voltage transformer, which is expected to increase the transmission capacity of the substation by 48 megawatts (MW) was reportedly financed by the World Bank at the cost of N59.6 million.Speaking on Monday, the Minister of Power, Works and Housing, Mr. Babatunde Fashola, who was represented at the February 2018 edition of the monthly power sector operators' meeting at Katampe in Abuja by the Minister of State for Power, Works and Housing, Mr. Suleiman Hassan, explained that on the average, 300 million litres of diesel were consumed monthly to power these generating sets.
The minister noted that the expenditure made on diesel consumption in Nigeria, acquisition and maintenance of the generators acounted for the huge loses to her grid power market.
He explained that the government was making efforts to ensure that up to 2,000 megawatts (MW) of stranded power in the system was transmitted and distributed to target consumers who need them the most but do not have that much of power yet.
He said: "Many of them use diesel. Diesel importation has been declining over the last two years. Many are reporting that they ran their generators for noticeably few hours. This is progress. However, Nigerians still consume about 300 million litres of diesel every month and most of this is used to power generators.
"About 75 per cent is imported, putting pressure on scarce foreign exchange. Assuming 40 per cent of the consumption is used for power generation at an average price of N200 per litre, electricity industry is losing N24 billion every month largely to imported energy."
He further stated: "At the same time, there is about 2,000MW of electricity generating capacity that is unutilised. Therefore, the challenge of the moment before the industry is how to deliver the unutilised capacity to consumers who are willing to pay for it and are already paying dearly for alternatives.
"Problems like this require creative solutions and we don't have any time to waste. The N701 billion intervention program is a creative solution that appears to be having the desired effect for stabilising the gas and generation end of the electricity industry."
He said government has scheduled a meeting this week with the Manufacturers Association of Nigeria (MAN) to try and find the best ways to implement the eligible customers regulation, which the Nigerian Electricity Regulatory Commission (NERC) recently made.
According to Fashola, "The eligible customer regulation and the meter service provider regulation are already subjects of detailed discussions and NERC regulatory action.
"The eligible customer regulation allows large consumers to buy their power directly from Gencos and then sign with TCN and Discos to have the power delivered to them. To plan an orderly win-win implementation of this policy, the ministry is hosting a discussion with the Manufacturers Association of Nigeria and other interested large consumers of the policy on Tuesday."
He further said that a policy being developed by the government to help the 11 electricity distribution companies (Discos) to expand the capacities of their distribution network to take additional power from the grid was almost ready.
"The distribution expansion program aims to rapidly construct 2500MVA of dedicated 33kV lines and packaged substations to deliver unutilised power to target consumers and Discos. It is our hope that we will all put our heads together to serve the public effectively," he added.
Meanwhile, Fashola said that the new TCN transformer he commissioned in Katampe and another in Apo would improve power supply to major parts of the Federal Capital Territory (FCT) and that instances of power outages would be minimised.
He said: "We recorded another milestone with the installation of additional 1x100MVA transformer at Katampe and another of the same capacity at Apo. The capacity of the Katampe 132/33kV substation, prior to this installation, was 120MVA. Therefore, with this installation, the capacity has been raised to 220MVA. Similarly, the Apo 132/33kV substation has been raised from 190MVA to 290MWA.
"The two transformer projects, executed by Messrs. MBH Power Limited, are part of the Nigeria Electricity and Gas Improvement Projects (NEGIP) financed by the World Bank.
"With the commissioning of the two 100MVA, 132/33kV transformers, these communities, Gwarinpa, Life Camp, Jabi, Kado, Wuye, Maitama, Mpape, Katempe 1 and II, Jahi, Mabushi Garki, Gudu, Guzape, Asokoro, Apo Resettlement, Wumba, Apo Mechanic Village and part of Lugbe and Nnamdi Azikwe International Airport all located within the FCT Abuja are expected to experience remarkable improvement in power supply.
"With this development, TCN has not only established adequate transformer capacity to serve these parts of Abuja but has also provided the necessary redundancy in line with the requirements of N-1 reliability criterion at both Katampe and Apo substations."
In his remarks at the commissioning, the Managing Director of TCN, Mr. Usman Mohammed, explained that the project contractor, MBH Power, adhered to the terms of its contract with TCN and ensured a timely delivery of the project.
According to him, "The contractor for this project, Messrs. MBH Power, did a marvellous job, they adhered to TCN new concept of speedy project delivery. They complied with our delivery schedule just as they did for Keffi and Apo substations."